I asked Mommy for permission to put up another post as a guest blogger since it is a post for her birthday.  And I am so glad she said okay
Last Saturday, Daddy, Mommy and I went to the E&O hotel for Mommy's birthday eve lunch.  They had seafood fried rice that day and I was very eager to show off my self-feeding skills.  I get a kick out of eating using the spoon all by myself, and feel a sense of accomplishment when Daddy and Mommy tell me "Good Boy!"  As you can see, I enjoyed myself very much and was very reluctant to leave the place.  I love to play with the window sills and run around the restaurant.  After lunch, Daddy, Mommy and I took a short leisurely stroll by the sea.  But it was only for about 5 minutes or so, then I ran back inside, with Mommy and Daddy hot on my heels.  Some good exercise I gave them after the buffet eh?
On Sunday (Mommy's birthday), I woke up and gave Mommy the sweetest smile ever and hugged her.  Then I asked her to go out of the room with me because I just poo-pooed in my pants.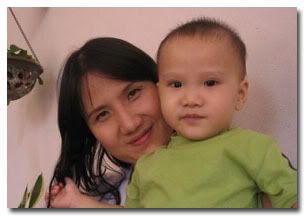 That very same day, Ah Ma and Ah Kong from Taiping came to Penang to visit together with Kor-kor.  We went to Maple Gold for lunch with Ah Chek and Aunty Christine also.  Here, I had the opportunity to show off my drumming skills with a pair of chopsticks.  Then I had yummy steamed rice with tofu and vege for lunch.  I bet Daddy and Mommy must have been very proud of me because I finished about one bowl of rice! :)  Of course, when I found that feeding myself with the spoon took a very long time, I decided to use my hands instead.
Mommy had a birthday cake too.  Daddy was singing a Happy Birthday song really loudly but I haven't learnt it yet.  I hope to be able to sing that song next year for Mommy.