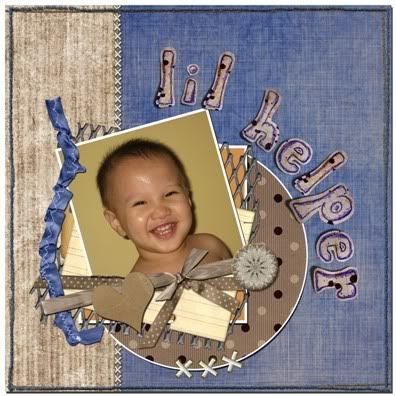 Scrap Credits
Preminition Scrapkit from Laura Burger
Kit Memory cross-stitching & button from Sueli Colbert
Kit Precious heart from Sueli Colbert
Zoo Alphas from Everyday Little Moments Design
Ethan is a very observant little boy and as such, he has been observing what Pete and I do when we get home from work each day.  One of the things we do when we reach home is keep some our things in the drawer.  For example, I would remove my watch and place it in my drawer.  Lately, Ethan has been trying to be as helpful as he can by helping us perform these tasks through role playing.  As soon as I open the door to my room, he would walk to the drawer and wait there.  Then when I remove my watch, he would open the drawer, take my watch from me, place it in the drawer and close the drawer.  Of course, he slams the drawer really loudly though.  But he does get a kick out of hearing us praise him when he does that.  "Good boy!" does it all the time!