Last Saturday, after months of procrastination, we finally took Ethan for the free trial parent-toddler class at The Learning Garden in York House in Penang.  We attended the 11:00a.m. session and it lasted for about 1 hour and 40 minutes.  As an afterthought, it probably would have been better had we gone for the earlier class…you'll see why later…
At first Ethan was quite shy when we first entered the playroom.  The teacher was very friendly and encouraged Ethan to make himself comfortable, and very soon, he was busying himself with the giant lego blocks.  He also found a wooden hammer which resembled the one he had back home, so I suppose he was happy.
The parent-toddler class is broken up into several sessions of activity, the first of which is a freestyle play with toys indoors.  After that, all the kids adjourned to a shaded play area with various activity stations, such as the artist area (complete with easels, paints and paintbrushes), sand pit (scoops, sand toys and lots of sand), a creative corner (with play-doh, glue and paper cutouts), mini-slides, mini houses and a water station.  Much to my surprise, Ethan enjoyed being an artist, complete with the artist apron.  He didn't seem too keen on paints and brushes when we had the Little Artists playgroup before… When he moved to the sand pit, he was a little apprehensive at first, perhaps because he had not touched sand before.  But soon he was so engrossed with scooping up the sand that he had to forgo the water station, because the time had come for everyone to move on to the next activity.
After we washed his hands (by the way, I absolutely love the taps that were installed for the kids: just the right height!), all the kids moved to the outdoor playground.  I love the special soft padded rubberized surface the playground was built on.  Kids can play around barefooted without hurting their feet.  Ethan immediately grabbed the basketball and held on to it for dear life.  That's why most of the photos have him holding on to the basketball.  He refused to let go of it even while he was sliding down the slide.  Oh by the way, he also enjoyed doing some slam dunks on the mini basketball net!  How cute is that!?  Future MVP, perhaps?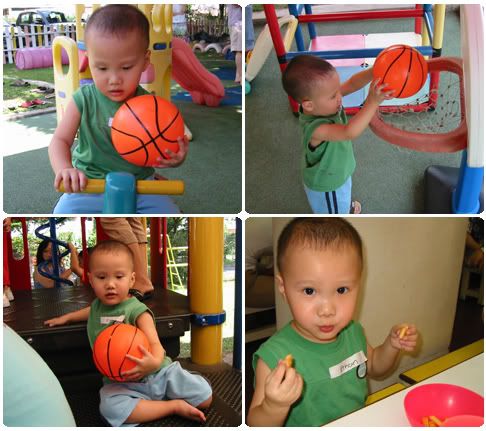 Next up, the kids were all given some biscuits and water, given that they would definitely be hungry and thirsty by then.  Ethan boy had TWO helpings of biscuits (that's two bowls), and finished every bit of it.  He really eats a lot but I just don't know where the food goes.
I could tell Ethan was pretty tired then.  Pete and I were also very hungry too (that's why we ought to have gone for the earlier class), but there was still one last activity remaining.  Everyone gathered in the music room, sang some songs and watched a video about the very hungry caterpillar (which made us even hungrier).  While most of the kids remained in the story-telling area however, busybody Ethan chose to explore the area and ventured up the stairs.
After everything was over, we all sang the goodbye song and the kids were all given stickers.  Ethan, who had to wait for his turn, was rather impatient, so he ran away at first without his sticker.  We had to take him to the teacher in the end, and she very nicely gave him a special teddy bear sticker
We have yet to decide if we want to enrol for the class though.  The parent-toddler class was a very good experience for Ethan and we could tell he really enjoyed himself. He's probably ready for some good fun and mingling around with kids too now.  So we'll wait and see.
Anyway, we had expected Ethan to fall asleep in the afternoon after all the playing around, but instead, it was Daddy who fell asleep!  Ethan only drifted off to dreamland at 6:30p.m.!!!  We had to wake him up to go out for dinner at about 8:00p.m.